Este é um servidor de serial RS485 e RS232 para Ethernet, utilizada na transmissão de dados transparentes. O USR-TCP232-410S é um duplo servidor que suporta RS232 e RS485 trabalhando.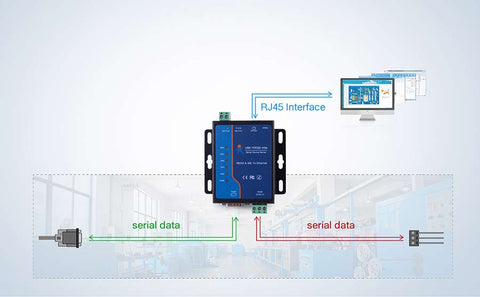 Transmissão de dados industrial, automação industrial
Monitoramento de segurança e proteção, segurança pública
Casas inteligentes, controle de energia, monitoramento de ambiente, agricultura moderna inteligente
Verificação de porta em sistemas de atendimento, sistemas POS, sistemas de vendas
Construção de sistemas automatizados, monitoramento de consumo de energia, sistema bancário de autoatendimento, monitoramento de salas de telecomunicações.
Especificações:
Auto-MDI/MDIX, porta RJ45 com 10/100 Mbps
Modo de funcionsamento: Servidor TCP, cliente TCP, cliente UDP, servidor UDP e cliente HTTPD
Duas portas que podem trabalhar independentes e ao mesmo tempo
Possui porta serial virtual e fornece o software URS-VCOM correspondente.
Taxa de transmissão na porta serial de 600 bps até 230.4 Kbps, checagem de dígito nulo, ímpar, par, marca e espaço
DNS e DHCP
Fornece exemplos de programação PC TCP/IP como por exemplo o VB, C++, Delphi, Android e IOS
Webpage integrada, também pode customizar webpage para o usuário
botão de reset, uma chave para restaurar a configuração padrão
RJ45 com Luz de indicação Link/Data,  transformador de isolamento integrado e isolamento eletromagnético de 2 KV
Com o endereço global exclusivo MAC comprado do IEEE, o usuário pode definir o endereço MAC
Atualização de firmware via rede
Keepalive: detecta rapidamente links mortos
Possui conta e senha que pode ser utilizado para o login da página e configurações de rede
Um canal Websocket, percebe a transmissão de dados transparente entre a webpage e serial 0
Possui Modbus RTU para Modbus TCP
Possui função broadcast UDP
Acompanha:
01 – USR-TCP232-410S
Documentos:
[User Manual]USR-TCP232-410s-User-Manual-V1.1.1.02
[User Manual] USR-TCP232-410S Quick Start Guide
[Datasheet] USR-TCP232-410s Datasheet
[Certificate] ROHS2.0-Certificates-For-Serial-Etherent
[Certificate] M4 Series CE FCC ROHS WEEE Certificate
[Certificate] USR-TCP232-410s KCC Certificate
[Socket_Demo] Socket_Demo.zip
[Config Protocol] E45&M4 Series Config Protocol V1.4
[USR-VCOM] VCOM_Setup_V4.0.3.11.exe
[USR-TCP-Test] USR-TCP232-Test-V1.3
USR-TCP232-M4&E45 Setup V2.1.2.220
USR-VCOM_V3.7.2.529_Setup
Dust or wipe clean with a cloth dampened with water once a week. Be sure not to leave water spots on the surface. These water spots will dry and could possibly leave permanent marks. Clean stains/spots using the following steps: Dampen a soft cloth with a mixture of hot water and liquid dishwashing detergent. Wring the cloth as much as possible to remove excess liquid. Rub the surface lightly in a circular motion. Dry the surface immediately with a clean, soft towel.